Glass Cycle Systems
UNIQUE Recycling Program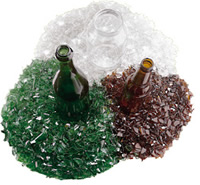 Glass Cycle Systems, Inc. is the only company with a unique and practical system to remove and recycle your empty bottles.

Our efficiently designed glass crusher granulates bottles INSTANTLY as they come off your bar.

We supply the equipment and containers needed for you to recycle your glass bottles.
We also maintain the glass crusher equipment .
We COME TO YOU to pick up your glass.

This compact machine fits easily under the bar and is safe, quiet and easy to use.
All YOU NEED on your end is:
Sufficient storage capabilities
Easy access to outside storage area
Glass kept separate from other trash
Refundable deposit



Click here to contact us about recycling your bottles and glass.

Why would you need Glass Cycle Systems????
EARN MORE * WORRY LESS

SAVE ON COSTLY PICKUPS
STOP SORTING & STORING RETURNABLES
5 TO 1 TRASH VOLUMN REDUCTION
NO MORE UNSIGHTLY TRASH PAILS
LESS TIME SPENT ON EMPTIES
ONE TIME CLEAN UP
MORE TIME FOR YOUR CUSTOMERS
PREVENTS BROKEN BOTTLE INJURIES
NO EMPTIES = MORE STOCK SPACE
INCREDIBLY COST EFFECTIVE


Serving the following New Jersey Counties: Atlantic County - Bergen County - Burlington - Camden County - Cape May County - Cumberland County - Essex County - Gloucester County - Hudson County - Hunterdon County - Jersey Shore - Long Beach Island - Mercer County - Middlesex County - Monmouth County - Morris County - Ocean County - Passaic County - Salem County - Somerset County - Sussex County - Union County - Warren County